Search paintings by:

Click Here To See Thumbnails of "OUR ENTIRE COLLECTION"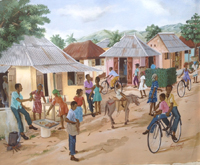 Featured Painting
Artist: Gary Chanel
Title: "Flirting In The Village"
Price: $675 $475
Special Prices
Super Savings on this gem plus FREE
shipping on all items in the USA !
Take advantage of our
Sale Section
. In it you'll find this early work by Gary Chanel. It depicts daily activities in a friendly village square in Haiti. Priced right for the experienced or beginning collector. Take advantage of our Special Sale with a piece from Gary Chanel.
Click here for ALL SALE items


The following items from our catalog are highlighted here because of their rarity or interesting nature. To view the rest of the catalog, click on the categories above or select from the menu at the left.

BUYER'S GUARANTEE
100% Money Back Guarantee
Each piece comes with a 10 day approval period for a full* refund if you're not delighted with your purchase.
All Works Guaranteed Original
All works are original and produced by the artist shown.
No Copies or Prints.
25 Years Acknowledged Expert
Collect with confidence from Katie Barr, a well-known industry authority.