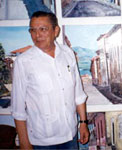 Biography - Miguel Angel Botalín



Artist: Botalin

Biography:
Miguel Angel Botalín was born in 1932 in Santiago de Cuba. He graduated from the School of Arts in Santiago de Cuba with a degree in painting and sculpture, as well as from the University of Havana with a degree in law. He is a founding member of the Union of Writers and Artists of Cuba.

In 1957 he participated in the formation of the Visual Arts Workshop and was editor-in-chief of its magazine. He was also instrumental in the creation of the Galería Cultural Center, which opened its doors to all the specialties and artistic trends in Santiago de Cuba.

Until 1995, he actively participated in the creation and promotion of Cuban art and culture, as well as international cultural exchange.

He has held important leadership positions, such as:
Cultural director of Oriente province, with headquarters in Santiago de Cuba
Cultural director of the University of Oriente
Program director of the Ministry of Culture
Director of the Arts and Literature Publishing House, affiliated with the Cuban Book Institute
Advisor to the Ministry of Culture
Cultural advisor to the United Nations Educational, Scientific and Cultural Organization (UNESCO)
Historian of the city of Santiago de Cuba
Botalín has traveled to Eastern and Western Europe, Russia, China, Latin America, the Caribbean, and the United States, promoting Cuba's cultural and artistic accomplishments. He gained critical recognition and received several awards for his outstanding contribution to Cuban culture.
His works have been exhibited in Cuba, the Caribbean, Latin America, Europe and the United States. His paintings can be found in diverse collections in Cuba, the United States, Mexico, Martinique, Venezuela, Uruguay, Italy, and Spain.
He is currently an active member of the Technical Advisory Council for the Casas del Caribe in Cuba. He currently lives in Santiago de Cuba and works independently as a visual artist.
Show All Paintings by this Artist